OUR CLASSES
Our group classes at RSF offer a well-designed program aimed at 3-6 training days a week. Each week is a complete program within itself. The focus is based on consistency to building strength, muscle mass, and help lose fat. Our split strength days ensure even muscle group targeting throughout the program.
We have 2 Strength days (RSF Lifters- Mon/Weds), 3 conditioning classes (including Circuit Saturday – Tues/Thurs/Sat), and 1 day combining both strength and conditioning (Lift-Con-Friday). We also have a Stronger with Age 55+ class tailored for individuals 55 and older, aiming to improve mobility, balance and strength.
Over the 14 years that RSF has been offering group classes, we have witnessed a plethora of workout styles come and go. "Group Classes" originated in the 70s-80s as aerobics - low intensity, high rep, no weights - and has since transformed into the opposite: high intensity and as much weight as possible, as fast as possible. our goal is to create the complete package.
The concept behind our program is that both approaches are necessary. While there is an importance for high intensity lifting and conditioning… Not all training sessions can or should be at 150% of your maximum ability. We also recognize the importance of lower intensity and aerobic capacity for overall health and training benefits.
Our goal is to create the complete package.
With our unique combination, we believe our program not only delivers the desired results but is also sustainable over the long term, minimizing overuse and acute injuries. The only requirement is that you fully COMMIT to the program. Inconsistently dropping in will cause inconsistent results.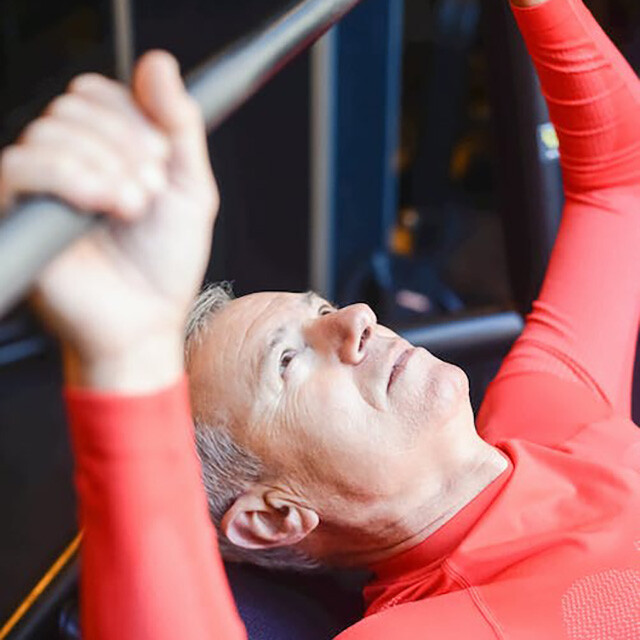 Are you eager to get stronger but uncertain about how to start? Russel Sean Fitness introduces the Stronger with Age 55+ class, exclusively designed for individuals aged 55 and older. Imagine navigating your day with minimal aches and pains, possessing more vitality to play with your grandkids or effortlessly climb stairs. Our certified and experienced trainers in this fitness class will offer one-on-one guidance in a small class setting, focusing on enhancing your mobility, balance, and strength through safe and effective exercises. Rediscover the freedom of moving without stiffness or discomfort, gain confidence in managing uneven surfaces with tailored balance exercises, and increase your strength using weights, allowing you to lift heavier items and handle daily tasks with greater ease.
LITTLE RSF FAMILY MEMBERS
We love and encourage members to bring their kids and have them in the kids lounge up or downstairs, but please remember to follow the rules so everyone can enjoy their gym experience:
No messy snacks
Clean up before you leave
Stay within the confines of the lounge and out of the gym area
No touching gym equipment
(If upstairs) Stay off the MMA mats unless supervised and without shoes
Try to keep interruptions to a minimum
Stay out of the spin room